Wednesday, February 15th, 2012 by Michelle
singer songwriter // folk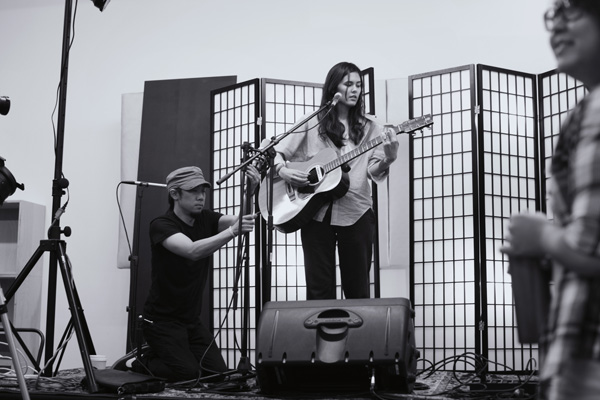 When we first featured Priscilla Ahn back in 2007, she only had a 5-track, independently released EP available. Since then, she got signed to Blue Note Records, released two full length albums and has had her music featured in a number of films and television shows. And last week, she and Charlie Wadhams released a free EP under the moniker Sweet Hearts. She's been pretty busy! Priscilla was nice enough to take some time to talk with us about making When You Grow Up and played a couple tunes, which we've included below!

Priscilla Ahn – "Lost Cause" (Live)
---
It's been a few years since your EP and A Good Day came out. For the new album, When You Grow Up, were these all brand new tracks, or were some of these tunes you had written a while back?
Yeah, there's only one song off the record that I started writing back in the EP days, and that's "Lost Cause". Everything else has been written sort of from the last record until now. I named the album "When You Grow Up" because a lot of those were written in a growing period. I took a lot of time to do a lot of reflection and thinking, and I feel like a lot of the songs came out of that.
Can you talk a little about your songwriting process? You've got a lot of layers in your songs — vocals, guitar and harmonies. How do you start off?
Well I write the lyrics and the guitar parts at the same time, it sort of just flows together. I'll make a demo of it, so I'll record that part, and then — it might not even be harmonies I'm thinking of, it could be other instrument parts — I'll just sing them, to add something to the demo. [laughs] But they usually end up just being crazy harmony parts. I've done a lot of co-writing on this record, and each process for that has been really different.
When you're co-writing, do you go in with an idea, or is it more collaborative?
The one with Inara [George], that was completely collaborative. We just sort of came up with that together on the spot. The one with Charlie [Wadhams] — I was late [meeting him], so he started writing an idea he got, which was great! The one with Sia; the night before I was meeting with her, I remembered that she doesn't play any instruments, and realized it was all gonna be on me for guitar. So I actually came up with all the chords and stuff for that song, and then she pretty much wrote all the lyrics, which was really cool. And all the other ones have sort of been collaborative ideas coming together.
The people you wrote with, they all have a number of musical projects they work on (both solo and as part of a band). Do you feel like they're musical influences as well as being friends, and who are some of your other musical influences?
They're totally musical influences, because I'm such a fan. You know, I'm their friend but also their fan. Which is awesome because I respect what they do and I trust their ideas. At the same time, it's a comfortable working environment because we're friends, so it's real easy-going. Other musical influences, as of late, I've been listening to a lot of Beach House, especially when we were recording the record. Françoise Hardy was an influence. I was listening to a lot of her music when I wrote "Cry Baby" so it was sort of influenced by that. Who else has been an influence…
I mean, not just for this record either, but also–
In life?
Yeah. That's such an enormous question, I know.
Well, Neil Young is one of my biggest heroes. Andrew Bird is really cool. Growing up I listened to a lot of Neil Young, Bob Dylan, Beatles. Radiohead was another big one. Pink Floyd.
Priscilla Ahn – "The Moon" (Live)
How did recording this album differ from your first album? I know you went over to England to record it with Ethan Johns, how did that impact the album?
It was really different, this whole recording experience was really different from my last recording experience. Ethan, he works really old school; we record to tape and he's very organic. On the last record (A Good Day), I was so used to us doing two or three takes of a song, and we'd piece together the best parts in Pro Tools and then — oh we're done! When [Ethan] started doing it, he had us play the same song all day, into the next day, and I would think, "This is taking forever!" But then I realized how genius it is, and what a big difference it makes, because it actually puts you into the song. Everyone who's playing is also in the song, and you all listen to it together, and you find that magic take. And for a producer to have that kind of patience I think is really cool. It's important to him.
And being in England, at first I was so stressed out because I wasn't going to have all my musician friends around me, and I was not going to be at home, you know? So I was really freaking out about it. But once I got in there, it was much better for me. When I record in LA, I get really antsy in the studio, and I'm like, "I can't wait to go home" and I'm not really focused. Whereas being there, what do I have to go back to? A hotel room by myself. Being in another country is also a deadline. I can't stay there forever. I have a plane ticket for this day, so we have to finish. It was just really focused, and made time go by really fast, which was great. It was a really good experience for me to break out of my comfort zone, and try something new. And I ended up meeting some other really great musicians, like Sam Dixon, who played bass, who's amazing. And Jeremy Stacey who played drums.
On the first album, you had someone play a saw, there was an autoharp — a lot of cool stuff. There were also a lot of interesting instruments on the new album, an omnichord, mellotron, celesta, marxophone. How did you start incorporating all those instruments in the recording process?
Well, for the first record, we just went in there and whatever was available. Luckily Joey [Waronker]'s studio had all this cool shit, and we were like, "Oh, let's try this!" But for this album, I wanted it to be a little more thought out before we went in to record. For the sake of time, but also to have a sound for the album. I made a list of all the instruments that I really liked, which were a lot of those, and Ethan had a couple other things like a mellotron, and a really old pump organ. Each old instrument brings it's own character and soul to the song, I think. For this album I gave it a little more thought, I mapped it out a little more. I went through each song and was like, "This one, I hear this, this, and this."
Priscilla Ahn – "All You've Got To Do Is Fall In Love" (Live) [Benji Hughes cover]
The album includes a cover of Benji Hughes' "Vibe So Hot". What made you decide on a cover, what drew you to the song?
For this album, I wanted to do a more upbeat song, and I was listening to Benji's album and I thought "Vibe So Hot" was so funny and fun.
When you were putting the record together, did you feel the need to include more upbeat songs to balance it out? I know a lot of the songs are slower tunes.
Yeah, I naturally just write slower songs and I wanted for there to be more movement in the album. With the first record, I had so much time to write all these songs, without thinking about it. Without worrying about, "I need this kind of song, that kind of song." For these songs, they were all pretty new. I was definitely more conscious about it, in a stressful way.
Are there any songs or bands that have caught your attention recently? What music have you been excited about lately?
Well I love Cass McCombs. I've been listening to Little Dragon, but they're a little more known. Oh, Blake Mills. He's here in LA and his music is really cool, I have his Live in Shanghai EP and it's so good!
Thanks Priscilla!
Priscilla's recommendations:
Blake Mills – Cheers (demo) from Live from Shanghai EP
Get a free download of Blake Mills' Live from Shanghai EP here.