Aurgasmic Adventures: Betahouse Mix
My good friends at Betahouse, a coworking space in Boston, asked me to put together a mix for their latest party. I was delighted to do so. My mate Tom Kershaw and I boiled down our fave tracks to a solid set.
I continued in the same vein as the Breeze & Sweat mix from 2006 – a sultry, funky, jazzy, chill to hot mix of tunes.
A few funky ones have debuted on Aurgasm before (Bahamadia, Flevans & Freddie), Kraak And Smaak deliver both the hot Max Sedgley and their own brand-new track, and Boston-natives Soul Clap close with some techno heat.
Mix available here as a 104mb zip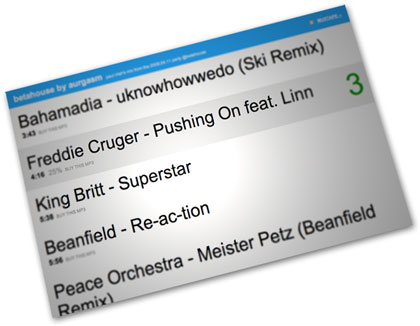 Tracklist:
Bahamadia – uknowhowwedo (Ski Remix)
Freddie Cruger – Pushing On feat. Linn
King Britt – Superstar
Beanfield – Re-ac-tion
Peace Orchestra – Meister Petz (Beanfield Remix)
Mr. Scruff – Donkey Ride
Max Sedgley – Devil Inside
Barakas – Kes
Flevans – 12 Apostles
Kraak And Smaak – California Roll
Soul Clap – The Giraffe