Aurgasmic Adventures: My DJ Debut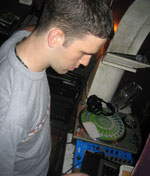 Last Tuesday, I received an email from dj, academician and ethnomusicologist Wayne Marshall. Also known by wayneandwax, he holds down a weekly at River Gods in Cambridge, nearly a mile from me. In the email, Wayne invited me to join him to guest DJ at his last night before he heads off to for post-doctorate studies in Chicago.
I accepted but admitted never DJing publicly before and not knowing much about DJ technique–luckily, Wayne assured me this would be fine. Putting together my first DJ mix was much tougher than throwing together party playlists. But for you, I wrote up my process, in case you'd like to do the same!
I finished putting together my set with just enough time to drive to the bar. Wayne was a cordial host and the audience was receptive. Playing for a crowd and tweaking dials from a balcony perch was quite a thrill. The free beer didn't hurt either. :) After my set we had some experimental vocal indie and then some hip hop/rock accordion courtesy of Julz A. Great overall vibe in that place. Chi-town residents, seek out wayne's future music engagements–he crafts a good time.

In case you stuck with me this long, I'll reward you with my amateur dj mix. Some transitions are really rough, but I'm pleased with it. Enjoy.
Aurgasm – Breeze and Sweat (55min, 80MB)
Tracklist (cue file)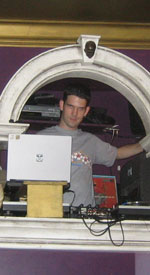 1. Nuff Wish – Healing In Vain
2. Kinny & Horne – Why Me
3. Dancing Djedi – Body Surfin'
4. Nomo – Hand & Mouth
5. Balkan Beat Box – Sunday Arak
6. Senor Coconut – Mambo Numerique (Featuring Marina And Towa Tei)
7. Quantic & Nickodemus – Mi Swing Es Tropical
8. Amadou & Mariam – M' Bifé Balafon
9. Quantic Soul Orchestra – Walking Through Tomorrow (Super 8 Part 3)
10. The Bamboos – Step It Up Featuring Alice Russell
11. Mr Scruff & Quantic – It's Dancing Time
12. Boozoo Bajou – Killer
13. Zuco 103 – Peregrino
14. Captain Planet – The Don
15. Romanowski – Strudel Strut
16. Quantic – Off The Beaten Track (Carmel Remix)
17. Peter, Bjorn And John – Young Folks (Beyond The Wizard's Sleeve Remix)