Enur – Calabria
dance // tropical // reggae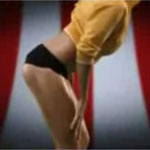 You've probably heard this. Either you've danced to this in a club, or you've heard the bastardization of it that Pitbull and Lil' Jon did,
"The Anthem"
. But here's the real story: the instrumental was done by Danish DJ Enur in 2003. It blew up in Ibiza but stayed cool everywhere else until late 2006 when it was mashed together with vocals from Crystal Waters into a track called "
Destination Calabria
" which hit the charts hard. Last year Enur takes the track and throws on vocals from Dannish reggae queen
Natasja Saad
, who sadly died of a car accident before she could see its absolute success. And now? You dance.
The summer jam of 2008.
Enur feat. Natasha – Calabria
Enur – Calabria (music video) (warning: scantily clad ladies)
buy this cd