Samantha James
deep house // downtempo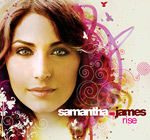 Tropically warm, upbeat and blissful; exactly what I was looking for to start 2008. Teaming up with Sebastian Arocha Morton, aka ROCAsound, and San Francisco based
OM Records
,
Samantha James
' debut is a soulful unison that her honeyed voice must have been made for. Embracing any surrounding with its aura; whether in a bedroom, out for a drive, or steaming up a club,
Rise
will sustain its essence hovering all around and inside you. A bossa nova flare from Aurgasm alum
Celso Fonseca
adds a wonderful touch.
OM grooves lift spirits to continue onward.
Samantha James – Rise
Samantha James – I Found You ft Celso Fonseca
+ Purchase/Visit