Spank Rock
dirty bmore club crunk danceshit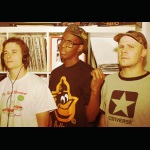 A little while ago,
Ninja Tune
announced:
If the future of Big Dada could be summed up in one word, survey says "DURRRTAY"
. While before they had the UK hipster hip hop scene covered with Roots Manuva and Ty; now the label is getting some looks for bringing out the bleeding-edge sweaty club sound. Their current roster shines with Philly's
Diplo
(who's been awfully quiet lately), France's
TTC
, and Baltimore's
Spank Rock
. The xxxplicit "Put That Pussy On Me" spits hot lyrics over a Snoop Dogg vs Beach Boys mash. The just released "Backyard Betty" has tweaky synths chirping over a mile-wide fuzzy bass sine-wave.
"Cutting edge without really caring; phenomenally rude without even meaning to be."
Spank Rock – Put That Pussy On Me
Spank Rock – Backyard Betty
buy this cd