Aurgasm Interview: Hanne Hukkelberg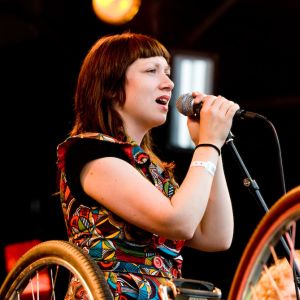 With her charmingly eclectic compositions and whimsical songwriting skills, a graduate of Norwegian Academy of Music in Oslo, now a Norwegian Grammy winner, Hanne Hukkelberg attracted our attention back in 2005. She was
first featured on Aurgasm with her beautiful song "Ease"
, and second time — for her
powerful live version of the Pixies' track "Break My Body"
.
After gaining a reputation as a wonderful live performer, collecting positive reviews all over Europe, Hanne Hukkelberg is finally releasing her second, highly anticipated album Rykestrasse 68 in North America.
---
From crunching typewriters to bicycle spokes and other every day objects, you experiment quite a bit and use such unusual instruments. Would you tell us more about your recording process?
The recording process is something very different from the live performing to me. First I compose alone. Often a half year. Then I go in studio with my producer KÃ¥re Vestrheim for some months. Then I sort of translate this for a live session. But in studio I present my songs and my ideas for KÃ¥re and after that the two of us work with the material. Always in a different way with every song.
For six months you've lived in Berlin, Germany where you worked on your second album Rykestrasse 68. How was it? Would you share your impressions on how was it working far away from home?
It was great living in Berlin. Berlin is full of contrasts and inputs. But the most important is to just move away from my everyday life, to something else to reach thoughts and depths in my self I normally don't have the time and pulse to get down to.
Your lyrics are wonderful. At times they seem to have certain ambiguous meanings. What are your inspirations?
In my creative processes, writing lyrics is the most difficult. But I just have to do it myself, because I have a need to express myself through text also. So I get very flattered when you think my lyrics are wonderful. My biggest inspirations are just what happens around me and thoughts I get out of it, books I read or stories others tell me.
Your version of The Pixies' "Break My Body" is probably one of the most striking covers I've ever heard. Does this song have a special meaning to you? How did you come up with an idea covering The Pixies?
It was a pure coincidence that "Break My Body" became a cover. I was in my early days as an artist and I needed more songs. My stereo favourite was Pixies and Break My Body, so I brought it to my band, I told them to play it 3/4. And it became what it is today. It got its own life.
We would love to hear about your musical influences. Anything in particular you could name as your biggest influence and inspiration?
Radiohead, Wildbird & Peacedrums, Bob Marley, Nina Simone, Cornelis Vreeswijk , Stevie Wonder, J.S. Bach, Funeral, Chopin, Thurston Moore, Pixies, etc..
Your song "Searching" (from the debut album Little Things) was used as the soundtrack for Space NK's TV and cinema advertising campaign. In the future, would you be interested in working on film scores? Do you have any upcoming collaborations and projects planned?
Absolutely. I am working right now with music for two short films. I like working and giving music to films.
We provide the readers of Aurgasm with great music they've probably not heard. Are there any tracks that you've been listening to recently that you'd recommend? What new music are you excited about at the moment?
Wildbirds & Peacedrums, my god, they are fantastic! But you need to hear them live…
Hanne's recommended artists:
Wildbirds & Peacedrums – I Can't Tell In His Eyes from Heartcore (2008)
Cornelis Vreeswijk – Polaren Per Är Kärlekskrank from Guldkorn Fran Master Cees Memoarer (1966)
Thank you so much, Hanne.
Thanks You Aurgasm!