Voice
urban soul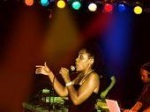 Gilles Peterson would be proud of me.
Mr Peterson
, radio host on BBC Radio 1 and one of my favorite DJs, has an affinity for a particular sound. What is that sound like? These adjectives might get you close: urban, sultry, smooth, jazzy, funky. And all those are perfectly applicable to New Orleans songstress Voice who just dropped a new CD on Toronto's
Public Transit Recordings
. A grooving rhythm section and an eccentric tempo curl around Voice's.. umm"¦ voice. The result is close to the current West Coast soul sound (a la Raul Campos'
Nocturna show on KCRW
).
Tight little one for the head nodders and the soul sistas.
Voice – Know Rhythm
buy this cd