Booka Shade
chilled electro // synth-dance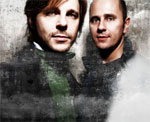 Observing a healthy balance between pop appeal and experimentation, the German duo Booka Shade concoct unusual blends of modern 4/4 sketches and timeless listening titles. They emerged as an electro-house outfit, but their latest CD,
Movements
, takes a more measured, deliberate approach to electronic music, reminiscient of Sasha's excellent work on
Airdrawndagger
. My fave from their new LP, "Body Language", has this round bass from the keyboard dials intermingling with a surgical precision with a guitar sounding like its strings are wet bamboo. A remixed cut of the track won the last "Ibiza Track of the Season" award. "Mandarine Girl" features heavier synth chordal progressions posed against a four-to-the-floor bass beat.
Considered musical taste with mass-appeal sensibility.
Booka Shade – Body Language (interpretation)
Booka Shade – Mandarine Girl (album version)
buy this cd