Aurgasmic Adventures: Cuizinier
I need to share with you an encounter I had with a superstar French MC.
Poking around my myspace two weeks ago, I noticed a bulletin from the French rap group TTC, signed to Ninja Tune's Big Dada label. This bulletin contained two interesting facts:
Two of their members, Cuizinier and DJ Orgasmic, were touring the US
They were looking for a place to crash in each of their stops
TTC – Dancingbox (Modeselektor remix)
Ever since hearing the Modeselektor remix of Dancingbox, I'd been deep into their sound. I figured I could offer up my pad, so I fired back a reply.
Cuizinier replied and was down for it:
hey thanks a lot man
i'll call you when we're in town
i already putted you on the guest list
peace
cuiz
Thursday afternoon I got a phone call from a number with seemingly too many digits. Hello? "Hey this is Cuiz". After a short chat, I was set to meet up with him at the show. Going to the show I realized I didn't really know what Cuizinier looked like, but I figured I could recognize a skinny white French rapper. On my way out the door I had grabbed my three bangin pairs of sunglasses so I could look my flyest; DJ A-Trak (Kanye West's dj and 5-time World DMC Champion) and Brooklyn's favorite dj duo, The Rub, were spinning.
The Rub warmed everything up with some reggae, then dropping into their signature dance/soul sound. Midway through their set we learned that this was the "Sunglasses Is A Must" tour and the three pair I brought along seemed fortuitously apropos.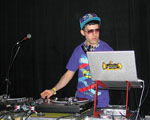 A-Trak tore up his set, as usual, with some old classics and brand new hiphop– and of course he brought his turntablism a-game:
Video of A-Trak mixing it up (live)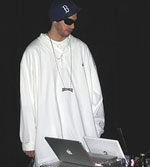 Cuizinier took the stage around midnight and when I first realized the guy wearing the XXXL Celtics shirt was actually sleeping on my couch, I pretty much blew my shit. His set was hype as hell, bringing out the fire jams from both TTC's Bâtards Sensibles and Cuizinier's own Pour Les Filles records.
Video of Cuizinier – L'encule le plus cool (live)
Cuizinier – L'enculé le plus cool from Cuizinier's Pour Les Filles Vol. 1 (2005)
Cuizinier – Seulement Toi (feat. Tido Berman) from Cuizinier's Pour Les Filles Vol. 2 (2006)
After the show, me and my girl Anne waited for Cuizi to collect enough cash from the venue to pay for the next day's train to New York. Cash in hand, we started heading back to my place. Cuizinier told me about the rest of the tour and TTC and Big Dada and all the news, accidentally slipping into French for several sentences, apologizing once he realized, and continuing. Off the stage, Cuizinier and DJ Orgasmic were surprisingly polite and well-spoken Frenchmen. We crashed at my pad, I woke them up at 9am and they took off for the subway shortly thereafter.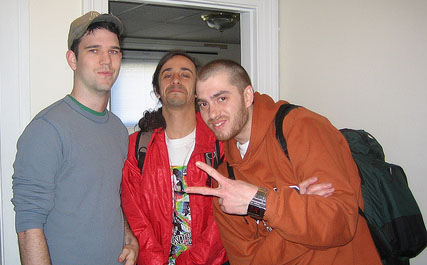 Before leaving however, my boy Cuizi Cuiz insisted in giving me a couple "presents" as thanks. I wound up with some goodies: copies of vols. 1 and 2 of his Pour Les Filles records, some flashy stickers and a dope ass Cuizinier sweatshirt.
So of course,
Contest!!!
As this was the Sunglasses Is A Must tour, y'all gotta email me your best photo of you rockin out in sunglasses.
Prizes will be awarded based on how fly y'all look. You might get just a sticker, or you may get all the booty.