DJ Kentaro
japanese turntablism // traditional remixed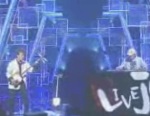 shamisen.
n.
1. A Japanese 3-stringed musical instrument with a very long neck, plucked with a bachi (a binding of sticks).
turntable.
n.
1. The circular horizontal rotating platform of a phonograph on which the record is placed.
Ready to see these two very different instruments bust out some crazy fusion of old and new?
Imagine a banjo player dueling with a DJ, in Japan…
DJ Kentaro mixing against a shamisen (skip to 0:40)