The Klazz Brothers & Cuba Percussion
cuban // classical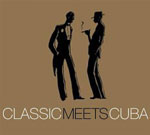 Three talented German jazz musicians were on tour in Cuba with the Dresden Philharmonic, when they fell in love with the Cuban music. A casual meeting with Compay Segundo led them to two talented Cuban percussions. The group then spontaneously ignited up a fiery session of cross-cultural musical intercourse. It was in this sudden compatiblity when the Klazz Brothers realized how perfect Cuban music complemented the classical pieces they knew so well. The result was their debut CD,
Classic Meets Cuba
, reinterpreting the masterpieces of composers like Mozart, Brahams, and Bizet into boiling Cuban rhythms.
Beethoven by way of Buena Vista.
The Klazz Brothers – Salsa No. V (Beethoven's Fifth)
buy this cd