The Cat Empire
playful aussie rockhiphopreggaedirtycubanjazz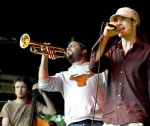 Now if you're from Australia, you're fully aware of this power squad of rockers. But if you're not, don't start thinking The Cat Empire is in the same aussie vein as Silverchair and Savage Garden. No no, TCE packs a hell of a punch – killer guitar riffs coupled with a nasty brass section. All the while, they feel like some neighborhood kids having a hell of a time, but you can't not love the entirely fun grooves they produce. 'Sly' jumps loudly off their newest album,
Two Shoes
, while 'Hello' is one of the killer singles from their earlier
eponymous release
. Dig the organ and swing interlude where it duels against a mean turntable scratch.
Extraordinarily fun and enjoyable stuff. Perfect for the hot summer.