Emilie Simon
female vocal electronica // orchestral folktronica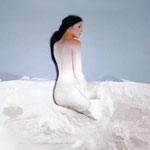 An eerie glockenspiel speaks. A xylophone answers. With the sound of streaked glass, Emilie asks of you,
'Won't you open for me, the door to your ice world?'
"The Frozen World" is a beautiful concoction of shivery sounds – the most subtle and crippled samples tense you up while Emilie holds the bass entry till nearly a minute into the song. She manages to hit the right combination of warm bass, swells of strings and her voice to the point where your spine shivers. Turn the volume up on this one. "To the Dancers on the Ice" hits you like a 7am hug after a sleepless night. Pair it with
Ratatat's "Cherry"
on your mix cds – together they're divine.
Beautifully crafted songs direct from childhood imagination.
Emilie Simon – The Frozen World
Emilie Simon – To The Dancers On The Ice
Trailer for La Marche de l'empereur (songs are from the soundtrack)
buy this cd