Common
hip hop // political rap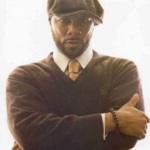 Common has been the influential uncle of the hip hop scene. But even though he's got some of the most sophisticated lyrical technique, his sales haven't come close to your typical hip hop juggernauts. Jay-Z even addressed this disparity between substance and sales, rapping in "Moment of Clarity":
Truthfully, I wanna rhyme like Common Sense/But I did five mil/I ain't been rhyming like Common since
. But later this month, Common releases
Be
, which critics are tipping as his more-or-less 'breakthrough' album. Hip hop's true artist proudly calls "The Corner", his first single off of
Be
, his "best work ever". And it def gets the head nodding – Common's flowing jazz-rap syncopations and Kanye's loose-wrist production keep it hot. In this impetuous remix, Mos Def grabs ahold of the third verse and lays it down so smooth he nearly outshines the master.
A wet, wet beat with the the sleekest of rhymes.
Common – Corners (Remix feat. w/ Scarface & Mos Def)
buy this cd