Corduroy
acid jazz // jam band // electric funk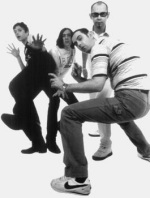 Britain's answer to the
Greyboy Allstars
, Corduroy are an impossibly retro blend of Gat gun drums, chilled-out keyboards, and wah-wahed guitars that swoop and distort like a funhouse mirror.
Dad Man Cat
, their debut, swings effortlessly from laidback foot-tappers to frenzied, all-out blasts that squeeze dance moves from the most reluctant of limbs. 'Ponytail' is a good example of the former, with a theme like beer at a sunset barbecue; 'Money Is' showcases the latter, a driving melody from a Starsky and Hutch chase scene. And the album as a whole is just one great tune after another, every bit as good as having an actual band in your living room (better, in fact, because you won't have to clean up all the cigarette butts afterwards).
Retro fun that'll keep you hopping all night long.