The Gay Pimp
electro-kitsch-porno-dance-house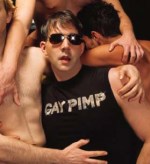 I'm nearly sure this hasn't made its rounds as the next internet meme, but it surely deserves it. Gay performer
Jonny McGovern
crafted this catchy, sexy, and hilarious tune about doing manly things. The music video for this deliciously dirty song is even wilder; after Molly shared it around, she came back to me with, "a bunch of lmao are being sent to me." Oh yeah.
'I like to do manly things, but I like to do them with you. I was thinking we could go do… something dirtyyyy yeah.'
It's so gaytasticly dirty, it'll make you feel like you need a shower.
The Gay Pimp – Soccer Practice
The Gay Pimp – Soccer Practice (video) (at bottom)