Carlos Vives
latin pop // tropical // vallenato puya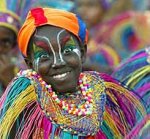 There's some times in life where you need the happiest song possible to sing along with and dance. And that's exactly where Carlos Vives delivers with 'Pa' Mayté'. In it, the traditional
vallenato
accordion and guacharaca are joined by chirping Andean flutes and a full-on Latin rock rhythm section creating a rich pan-Colombian fusion. It'll get ya dancey.
When you find yourself wanting to sing along with this catchy tropical tune, I've got you covered.
Also: I've been trying my darndest to keep all of aurgasm's songs online, but I've finally run out of space. So before I start deleting the old stuff, hit up the archives and listen around. There's some damn fine music in these past couple months: [Sept],[Oct],[Aug],[Nov].