C-Mon & Kypski
jazzy funky breakbeat // big beat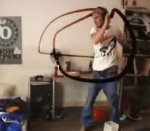 Funky sample heaven. C-Mon and Kypski is a
German
Dutch (
thanks, guys!
) group that throw together incredible constructions of samples and breakbeats into some very accessible and groovalicious tunes. From their
website
: "Their energy – containing musical ancestors such as jazz, hip hop, soul, funk and more – is definitely exploring new territories while staying continuously dynamic." I like that. And damn it, I like this song: "Shittybum" (featured earlier on
Waxy
) would blow me away by itself, but it's completely overshadowed by the coolest music video ever. Wait up for the Space Invaders sequence. It's badassss.
Spike Jones, watcho'self. This music video is one of the freshest bits of musical/video artistry I've seen.
C-Mon & Kypski – Shittybum