Huey 'Piano' Smith & The Clowns
You know, sometimes, how you have song vomit? You don't remember consuming it lately, but now you're singing this track you know and love, but can't remember the name of for the life of ya! That happened to me on this track–all my brain could recall was the non-word syllabic exclamations of the chorus. So I call up my parents and sing for the answering machine. They, too, recognize the tune but can't name it either, so they call up their friend and oldies music source. Same problem.
So over Mother's Day weekend I sit down with my dad's collection of the Billboard top 800 from the 1960's (don't ask) and start going through them one by one. When I'm around the 700 mark, my dad blurts out with a lyric from the track! A quick google search reveals not only both the song title and artist, but also a yousendit link to download the mp3. Luck of the Irish, I guess.
1950's rock 'n roll // boogie woogie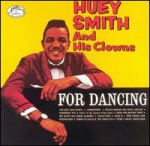 Following the footsteps of great New Orleans pianists like Professor Longhair, Huey made piano tracks to dance to. In 1957 he signed with Ace Records and formed 'The Clowns' with transgender artist Bobby Marchan at the helm. The two saw chart success multiple times, but none of the other records get me screaming along quite like this one. (turn it up!)
A good hearty 1958 rock 'n roll rag.
Huey 'Piano' Smith & The Clowns – Don't You Just Know It
buy this cd