Daphné
french pop // intimate songwriting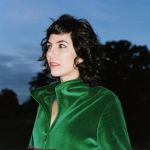 Featured on Aurgasm three years ago,
The Lovers
transfered a catchy rumba riff into their delightful lounge track
"Crick Crack"
. In 2007, exploring her entrancing style, French chanteuse Daphné adopts the same riff to her delicate arrangements of "Musicamor". Beautifully comprised of Daphné's airy voice and Gonzales' piano playing, "Un Homme Sous Influence" reveals such a personal sense of poetry. Daphné manages to take her listeners on a voyage of subtle emotions and sentiments, and was compared to a fairy by the French press
.
Enchanting voice weaves into well-crafted compositions.
Daphné – Musicamor
Daphné – Un Homme Sous Influence
buy this cd