edIT
abstract hiphop // blip-hop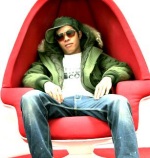 Los Angeles producer edIT has done his fair share of remixes and edits (
natch!
), but when Hefty commissioned him to throw together a mix mashing their electronic catalog against some hiphop jams, his production talent had
a 40 minute showcase
. After 18 months, the man is back with his LP "Certified Air Raid Material". Collabs with TTC and Busdriver keep the mic burning hot while edIT's impeccable production delivers. In addition to the track below, "Crunk De Gaulle" and "Battling Go-Go Yubari…" stand out in the 2007 scene, too.
Crunchy and gritty hiphop from a squeaky-clean production.
edIT – Artsy Remix (feat. The Grouch)
buy this cd