Silent Land Time Machine
post-rock // shoegaze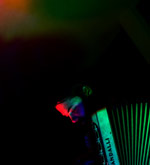 Originating from Austin's diverse, musical underbelly,
Silent Land Time Machine
draws its influences from such cult hits as Godspeed You! Black Emperor and A Silver Mt. Zion. This one-man symphony features the viola, violin, guitar, accordion, piano and anything else he can get his hands on. While he credits much of his instrumental inspiration to violist Anni Rossi and Zion's Sophie Trudeau, his dynamic self-recordings successfully create his own polyphonic brand of music. It's the perfect music to attach to the soundtrack of your sentimental memories and dreams.
Nostalgic polaroids flip past while your odometer flips forward.
Silent Land Time Machine – Everything Goes To Shit
Silent Land Time Machine – The Thing This Doesn't Mean Is Nothing
Words and music contributed by Abhinav