Flanger
soul // german post-jazz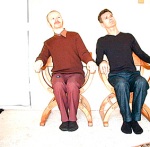 Flanger first recorded records in the experimental downtempo realm. When they started recording their 2005 album,
Spirituals
they seemed to take a page from label-mate
Jamie Lidell
's book: they transitioned into more soul 'n blues based songwriting. The reeded instruments in "Crime in the Pale Moonlight" provide the perfect accouterments to Riff Pike's crooning. "How Long is the Wrong Way" gives us a little lighter jaunt down Finger Snappin' Lane.
Where inspiration to play and sing come from above.
Flanger – Crime in the pale moonlight
Flanger – How long is the wrong way
buy this cd