Helena
french pop // chanson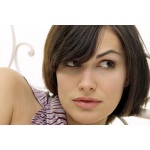 Helena Noguerra is a Belgian born successful model, acctress, singer-songwriter, singing and writing her own lyrics in French, Portuguese and English. She has worked as a radio DJ, published two novels, covered Kylie's "I just can't get you out of my head" in a very sensual version. While still modelling, she was meeting up with musicians, doing collaborations and also met Philippe Katerine who did most of the composing and producing of their two rather different projects.
Azul
(2003) is mostly bossa nova influenced with subtle electronic touches while
Née dans la nature
(2004) follows French chanteuse tradition.
Gentle as spring rain and as intimate as a careful whisper.
Helena – Can't Get You Out Of My Head (track 11 on the Aurgasm Summer Soundtrack)
Helena – Je Nageais Nue
buy this cd