An Pierlé
belgian pianist // singer-songwriter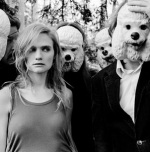 An Miel Mia Pierlé is a Belgian pianist, accordionist and singer-songwriter who had been touring with a theatre group, starring in a Belgium television series and giving solo performances before she signed her first record deal in 1998. Unlike the debut album, her second record,
Helium Sunset (2002)
, was released outside of the Benelux and France and received many positive reviews as well. And now she has come back with a new record
An Pierlé & White Velvet (2006)
written with her co-songwriter, arranger, composer and lover Koen Gisen. This is the result of everything Pierlé and Gisen have experienced and absorbed so far, the new sound of An that grows and creates something new.
Poetic and personal, sometimes sugary and bizarre.
An Pierlé – Jupiter
An Pierlé – I Love You
buy this cd