Corinne Bailey Rae
female vocal // acoustic soul // downtempo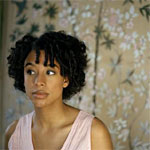 All I need is a sweet voice singing soul to convert me to from an overworked stressball to a free-breathing guy contentedly driving back home to his 'regular' life. And to that end, I thank you, Corinne Bailey Rae. She has emerged from an unknown status to be a hotly tipped solo female vocalist poised to be the next India.Arie.
Her website
aptly describes her tune 'Like A Star': "a slice of sublime Billie Holiday Blues delivered with a voice that pins you, in the softest but most persuasive of ways." Delicious. Try 'Enchantment' if you want a little more Morcheeba-like motion.
A voice that floats effortlessly, full of caress and subtle quality.
Corinne Bailey Rae – Like A Star
Corinne Bailey Rae – Enchantment
We have received a Notice of Infringement concerning the content on your account. Therefore, we have removed the alleged infringing material from public access, and are notifying you of such removal in compliance with the Digital Millennium Copyright Act 17 U.S.C. Section 512.