¡Cubanismo!
cuban jazz // modern son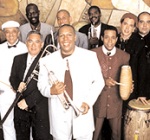 Havana's prodigy, Jesús Alemañy, tightens these fifteen wildly talented musicians into a combustible knot of chart-topping latin rhythm. They lay down some flying trumpet riffs and fabulous bongos in the classic Cuban style, throwing in mind-blowingly high solos and firey dance grooves. This group was a key component of the Cuban musical explosion into the States in the late nineties, joining alongside the globally popular
Buena Vista Social Club
in drawing out American ears and feet to the dance floor and bringing the time-honored, trumpet-propelled Cuban band into the modern arena. Certainly one of the spiciest groups to blow out of Havana in half a century, ¡Cubanismo! tops my list of Latin music. Thank you, Senior Alemañy.
Thanksgiving en fuego!
¡Cubanismo! – Tumbao De Coqueta
¡Cubanismo! – Now In Marinao
buy this cd