Tin Hat Trio
tango // eastern european folk // bluegrass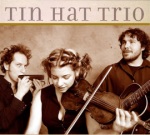 The group describes themselves aptly: "music for the shotgun wedding of Astor Piazzolla and Django Reinhardt with Charles Ives as the flower girl." These three skilled musicians studied at schools including the Oberlin Conservatory, Peabody Conservatory, and the Hartt School of Music, and have worked with Phillip Glass, Bill Frisell, Tom Waits, even Mixmaster Mike and Tipsy! In essence, you've got learned musicians that create impressive music that's technically meaty and simultaneously fun &#8211 mixing together elements of piano, violin,
dobro
, drum set, and tuba. They've released four discs now, my selections below are from their debut and 3
rd
, coming off the eclectic
Ropeadope Records
label.
An earthy concoction of outdoor music: tango, bluegrass, and chamber jazz.
Tin Hat Trio – Happy Hour
Tin Hat Trio – Fire Of Ada
buy this cd