Beady Belle
nu jazz // norwegian soul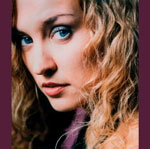 Beady Belle is a result of collaboration between vocalist Beate S. Lech and talented instrumentalist Marius Reksjø which began at the University of Oslo. Marius earlier worked with the
Bobby Hughes Experience
and joined Beate in developing an album for Jazzland Records, requested by nu-jazz godfather
Bugge Wesseltoft
. From Beady Belle's newest album,
Closer
, is "Goldilocks" which gives me everything I want out of a nu-jazz tune in a fine smooth progression. I get vocals similar to
Diana Krall
, some organic clap and tambourine action popping in, and even a killer blues rhythm guitar break-out solo session.
Hot groove, sweet vocals, and an organ tickled with white gloves.