The Books
cut-n-paste acoustic folk // electri-experi-indie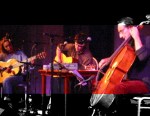 "skippy, choppy, and destructed…
"
"blipworld / fakegrass / speedblues / chamberclick / eccentrock / country&eastern / glitch post-anything music with samples, closely followed by 'food band'.
"
"quick surges of crowd noise, vibraphone, guitar and bits of violin.
"
"they manage to squeeze every last ounce of beauty from these commonplace sounds and let them carry the songs here.
"
"their brilliant reassembly of tone into tune simultaneously created a genre and perfected it.
"
"also the sounds you use seem to be all fragments, like "found objects" really.
"
"We love beautiful surfaces that flow and pull us in, but we also love depth and nuance and invention…
"We are always trying to find that balance between emotional accessibility and musical innovation."
The Books – An Animated Description Of Mr. Maps
The Books – Enjoy Your Worries, You May Never Have Them Again
buy this cd