The Meters
funk // soul // 1970's new orleans r&b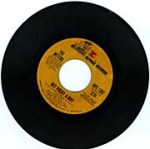 Ya know, sometimes I see this song floating around; I think
Thank god somebody's listening to it.
But still not enough bodies are hearing this; it's an absolute classic. It's been sampled by everyone — from Public Enemy to Congo Natty. Picture this: a suave black brotha' strutting down the city block after he had just kissed his sweet lookin' honey that he just
knows
looks too good for him, but damn it, he'll take it. And he is one happy, smug fella'.
The simmering convergence of meaty funk and hearty soul.