Akufen
micro-house // glitch blues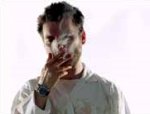 Akufen's unique sound arises out of a dedication to keep his listeners' ears on their toes. For his acclaimed 2002 album,
My Way
, Akufen used a technique he calls micro-sampling; he would record hours of AM/FM radio and splice together half-second samples of different songs and voices to make a pattern-work quilt of fierce house sound. And now, just last month, The Rip Off Artist, Freeform, and Akufen collaborated on
Blu Tribunal
, a record to explore the convergence of blues and electronica. The music that came out is something you've never quite heard.
We've got two differently similar sounds here. Pick door number one for fractured house, two for the blues on mescaline.
|1| Akufen – Deck The House
|2| Akufen – The World Wanna Know