Gavouna
folktronica // cut 'n paste organic // electronic orchestral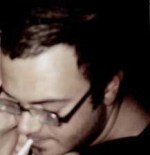 The
'folktronica'
name has been getting a lot of flack lately, though it may be well deserved. It's a cheap cliché descriptor for music contructed with the aid of a computer. Yet this doesn't differentiate from any other genre; we might as well call them hiphoptronica and indierocktronica. Synthesized sounds have a significant influence on nearly all modern music. Folktronica is just a naturalistic (and somewhat minimalistic) approach to songwriting that often uses samples such that you can hear they're samples and develops a warm atmosphere of sound out of seemingly chilly sounds. Here,
Pedro
's labelmate Gavouna creates an organic textured array of these pastoral sounds into something listenable and lovable.
Bare xylophone, lush violin sweeps, and a vision of idyllic contentment.
Gavouna – Three

UPDATE: Gavouna informs us he's now on Arable Records (along with Psapp) and his newest LP, Stings and Dum Machines is available on Boomkat and Juno.
buy this cd