Aurgasm Interview: Efterklang
electronic // post-rock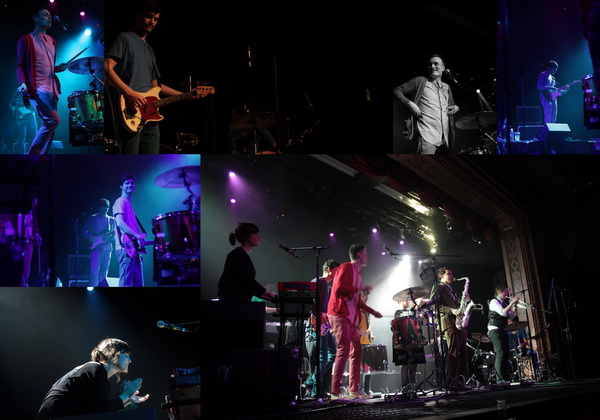 Many of you might be already familiar with the Copenhagen-based electronic-post-rock collective Efterklang. Following last year's release of Performing Parades, featuring the Danish National Chamber Orchestra, Efterklang are back with their third full-length studio album Magic Chairs (2010). While they are finishing their North American tour and heading to SXSW, I caught them at Seattle for a quick chat with Rasmus Stoldberg, one of their core members. But before the words, Efterklang made an exclusive gift to Aurgasm readers: a remix of Magic Chair's opening track "Modern Drift".
Efterklang – Modern Drift (Anders B Remix)
---
When you started playing music back in 2000 (10 years ago!) what were your expectations as a band? Did you think what it would be like if one day you become popular? How that matches with the way Efterklang is nowadays?
I think we had a lot of dreams in that direction, but mostly (and that's what we still try to keep the focus on) we just concentrated on the music. All these years, what mattered most to us is the music we play and the albums we record. That's the real motivation. When you succeed doing those things, that's when you really feel good as a band. When you succeed in making the music you imagine you can do. That was the starting point. To be honest, it took me 6 years to realize that maybe I could actually make a living from music. I was doing it as a hobby and thinking to stop it some time, but now it's a full time job, something we do every day. We do our best to maintain this reality so we can keep on doing it. Also, you need to find the balance, because once you start having those thoughts that you need to remain successful, you also start to lose focus on the most important thing — the music. So we've been trying to mostly focus on the music we want to make.
I thought to myself tonight, seeing this great gig and the queuing crowd after the show, that Efterklang is an example of a good management in 2010. You seem to be the manager of the band? Efterklant frequently updates their website, Facebook, Twitter, their photo journal on Flickr and more. How does the social media helps you to connect with your audience?
Yes, I'm the manager. I make sure we get the record deals that we want and such. The new record is released via 4AD (editor's note: Efterklang has previously worked with Leaf and they also run their own label), a bigger label than we used to be on and this means that they actually have money to market Efterklang. That's really nice, but at the same time our background is all about direct contact with people: going out and playing a lot of shows, getting people to sign up for the newsletter, trying to communicate with them on MySpace or Facebook, whenever we can find these people. When you're a small band with no marketing budget, it's really a nice way not only to communicate with the fans, but also make sure that all the people who like Efterklang know what is going on. It's especially important when you're on tour, maybe you go to play a show in Denver, Colorado and maybe a hundred people show up, and that is really nice. But it is really painful to think maybe there is actually two hundred and fifty people in Denver who like Efterklang, but didn't hear about the show. It's also tough to be on so many websites, but it is also fun! We do everything ourselves, we're a big band, so everyone has a role. If you're a singer-songwriter and you do everything on your own I understand it's something you probably can't spend so much time on. We took a drive from Chicago to Seattle and we were in the car for two and a half days and we had internet in the car, so it was fun to update on the way.
Do you maybe have any tips for bands and musicians how to use social media better? And, let's face it, some fans download and pirate your music… Any tips how to survive as a band like that?
Well, it all comes down to the music. That's the main thing that I care about. You can get on so many websites, and you can do all the right things or all the wrong things, but it all comes down to the music. So my best advice is to spend a lot of time on making good music. And then, if that's working for you, there are a lot of things you can do. I think it's a way of finding a balance between doing what you think is fun and what you feel you have time to do, and making sure it doesn't become too much, because the important thing, naturally, is to write songs and play a lot of concerts. So the the most important is writing good songs and playing live.
Do you think live music is the future of the music industry? Now that record sales are declining…
Well, recorded music has existed for about a hundrend years, but live music has been around for thousands of years. It's difficult. I try to figure out what is the right thing and I realize I'm not gonna come up with an answer. Hopefully someone will come up with a good method. Where I am from, I actually like record labels and I'm sad to see the way things are… We have our own label and we work with different labels, and what they do for our band is actually great. They invest a lot of time and money in our work. We work with different, special kind of labels — only with some good indie labels and I hope they will keep existing because they do really good things.
Let's talk about Efterklang's musical influences. Anything in particular you could name as your biggest influence and inspiration?
There are a lot of things, not a single one I can name. Over the last ten years, it's been so many different things, we listened to a lot of German electronic music, and then we listened to music from Iceland. Maybe the biggest influence is a band called Einstürzende Neubauten. It still remains one of our key influences. What they do is completely different from what we do, but their ideas are incredible. It's nice that you can be inspired by a band you would never sound like. It's a hard question, because we're deriving inspiration from so many different areas, from electronic music to Rock, and we mix different influences.
You've worked with so many talented people, musicians, video artists etc. You've done many collaborations and projects, including with the Danish National Chamber Orchestra. Is there anyone in the world you would love to collaborate with on a special project?
Old school Danish bands. We grew up with their music. They mean a lot to us, but they wouldn't mean a lot to you. They sing in Danish. Old guys that have been around since the 60's. And maybe Tom Waits would be fun.
We provide the readers of Aurgasm with great music they've probably not heard. Are there any tracks that you've been listening to recently that you'd recommend? What new music excites you at the moment?
I can help you with that! I'm excited about a new Danish band called the The Late Great Fitzcarraldos. It hasn't been announced yet, but they're going to support our tour in Denmark in April. They have a new record out in April or May.
Thank you so much!
Thank you, Julija.
Efterklang's recommendation:

The Late Great Fitzcarraldos – My Temptation (Radio Edit) from My Temptation single (2010)
+ Purchase/Visit