Mareva Galanter
french electro-pop // yé-yé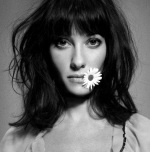 A former model expanding her work into music or cinema is not surprising. However, it is rare and surprising when she does it so good, and does it in such a fun way. With her debut album Ukuyéyé (2006), Mareva Galanter, once Miss Tahiti and Miss France, delivers a collection of mostly catchy pop-rock songs from the 60's. Her coquettish charm and ukulele manage to give it fresh sound and a lovely feeling to it.
Delightful interpretation of the classic.
Mareva Galanter – Les Filles, C'est Fait Pour Faire L'Amour
Mareva Galanter – Miss Hinano
buy this cd
Note From Paul: I'm looking to bring on some additional writers to Aurgasm. If you like the kinds of music featured here and can find similar stuff, we should talk. This is a paid gig. Current bloggers are welcome, too. Email me at paul -atsymbol- aurgasm.us.