Emiliana Torrini
intimate acoustic // dream pop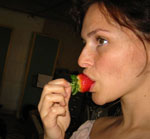 I know how it went. You watched
The Two Towers
and enjoyed it thoroughly. The credits started rolling and a curious voice crept inside your ear. Initially, you were like, "Hmm! They have Bjork on the soundtrack!" Then, a few seconds later, you realize that the voices didn't completely match up, although eerily similar. You dive online and find out its yet another Icelandic songstress: Emiliana Torrini. That was then, this is now: off her newest album,
Fisherman's Woman
, "Sunny Road" is an unassuming sweet lullabye where her unique voice mixes perfectly with the soft subtleties of instrumentation.
The satisfying sound of an accomplished songwriter.