Xploding Plastix
orchestral jazz // spy music // idm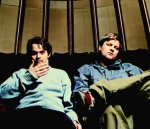 Layers upon layers of sound that whooshing by you in a sonic fury. Norway's Xploding Plastix erupted in their country's impressive music scene with their debut,
Amateur Girlfriends Go Proskirt Agents
and earned themselves a Grammy for best electronica record. Their music is like James Bond lounge-jazz meets Amon Tobin; Henry Mancini vs. Squarepusher. Their blow-you-away
website
has all their music available, in high fidelity audio.
A triplage of gorgeous music, today, for you to indulge in.
Xploding Plastix – More Powah To You
Xploding Plastix – Treat Me Mean, I Need the Reputation
Xploding Plastix – Rattlechaser