The Standells
rock 'n roll // 60's garage rock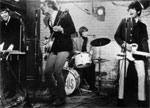 I just gotta throw some love on my Boston boys.
1918
! See, my parents used to be in a rock 'n roll band, and as a rambunctious music-loving six year old I always boogied down at their jam sessions. My mom tells me I requested 'Dirty Water' at every single practice and I totally can now understand why. It's got a gritty feel, very Stones-ish, and the guitar line snags ya.
'Cuz I LOVE that dirty water…. Ooooh Boston, you're my home!