Sufjan Stevens
rock // indie-folk // chill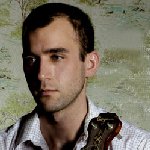 Delicate guitar work. Soft gentle voice.
Sufjan Stevens used to be part of the folk-rock group Marzuki in Michigan. But then he moved to NYC and went solo. The sound he creates is substantial but softly soothing. He's the indie rock response to alt-country's Iron and Wine.
His name isn't like his sound. His sound reads like a pane of clear, beautiful glass. Take some in.
Sufjan Stevens – For The Widows In Paradise, For The Fatherless In Ypsilanti