Gwyneth Herbert
jazz // folk // acoustic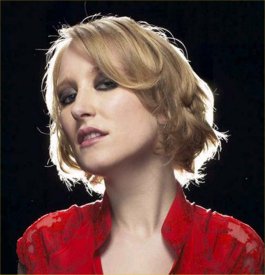 At the Fringe venue where I work most summers, the name Gwyneth Herbert has always lurked deep in the music program, and this year I finally decided to check her out. This is what I wrote about the show at the time:
She is stop-you-in-your-tracks, shoot-you-in-the-face fantastic. Her lyrics are tight, her voice elegant, her manner onstage masterful; and it was all backed up by some really superb guitar by Al Cherry.
These tracks are from her latest LP, Between Me And The Wardrobe, which has just been picked up by Blue Note UK. They're full of beautifully sparse instrumentation over which her vocals get to really gleam and shine. Do yourself a favour and buy the album.
Quiet and beguiling.
Gwyneth Herbert – Lay You Down
Gwyneth Herbert – Sweet Thing
buy this cd