Toumani Diabate's Symmetric Orchestra
african folk // kora // mali beat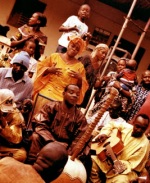 From the liner notes:
The Symmetric Orchestra reflects the spirit of Mali's new democracy since 1992— a spirit of equality, and creativity. There's a public in Mali today that loves traditional music — griot music — but not the griot milieu. With the Symmetric, they feel free to enjoy this music without the obligations of tradition. And this gives us the freedom to present the tradition in new ways.
That quote is enough, I'm sure, to make any Cultural Studies critics reading wet themselves, and I'm going to give them a little more: TDSO is one of those deftly textured creations that evokes equal parts timeless and contemporary, diffuse and situated. Try listening to the soft chants on 'Mamadou Diaby' without thinking of Four Tet, and the virtuoso piano on 'Africa Challenge' without hearing the tango. It's beautiful.
A well-crafted blend of all-over sounds.
Toumani Diabate's Symmetric Orchestra – Mamdou Diaby
Toumani Diabate's Symmetric Orchestra – Africa-Challenge
buy this cd