Song: Wonderwall
pop-rock -> somber indie -> big-band swing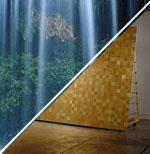 The most satisfying covers are those that transform the song into a completely new setting. Today, you're getting two unique covers of the
Oasis
classic 'Wonderwall', easily my favorite track from the Gallagher brothers.
Ryan Adams
(who's coming out with two
more
albums this year) presents a slow but deliberate guitar and reverbed vocal track. From the subtle voice crack to fingertip-string treble to his emotional howling, Ryan's cover emotes a clear and true representation of the song's meaning. On the complete and opposite side of things, Paul Anka's take, from
Rock Swings
, is a glitzy big-band version with spot-on vocals and instrumentation. The arrangements are well done – not sleazy covers like
Richard Cheese
.
One version subdued and sincere. The other bright and boiling.