Bill Frisell
world jazz // african // country celtic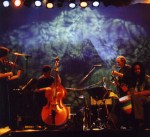 It opens like a treasure box, curious colors squiriming around inside. Slowly, they transform into a steed mounting the orange horizon. The African moon rises slowly, placing you in a trance and absolving you into an addictive chant. Bill Frisell has been creating songs melding together an assortment of world flavors for years. This track, "Baba Drame" from his 2003 album,
The Intercontinentals
, amalgamates seemingly disparate world genres. An african rhythm guitar and percussion start off the song, however a country violin pairs with the guitar for a solid harmony that feels mistakably celtic.
A beatiful sample of the world's sound in a palatable package.