Kings Of Convenience
acoustic // indie folk rock // downtempo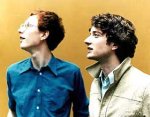 Warm harmonies. Beautiful melodic lines. Everyone one else is blogging it, why can't I? The Kings of Convenience have received a boat-load of press lately, and its fully-deserved. Erlend Øye, one of the members, has bounced off onto a solo career, releasing a
DJ Kicks
album and his own,
Unrest
. There isn't a shortage of
comparisons
to Simon and Garfunkel, but that's because the two duo's sound incredibly similar vocally. Dare I say that the harmonious of the KoC are even better than their 1960's counterpart.
Feel like you're snuggled close to your sweetheart in swathes of curduroy in the cool summer breeze. Grab this.
Kings Of Convenience – I Don't Know What I Can Save You From