Aurgasm@FYF FEST 2010
FYFFEST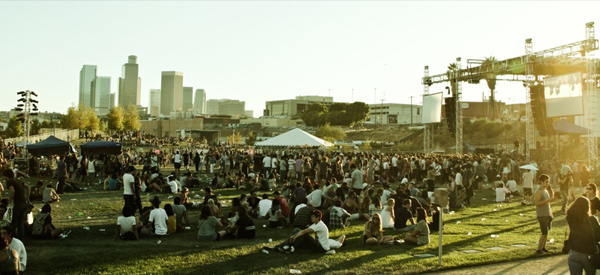 While Julija was covering Bumbershoot up in Seattle, I was in Downtown LA's Historic State Park for Los Angeles' own FYF FEST. It was a pretty phenomenal afternoon of music. Unfortunately I couldn't stay for the whole night, but the stacked line-up ensured I had tons of great bands to check out while I was around! The absolutely packed line-up included Cults, Warpaint, The Soft Pack, Best Coast, A.A. Bondy, The Mountain Goats, Local Natives, Delorean, Panda Bear and The Rapture (plus a comedy tent for good measure), which meant there was a lot of jumping from set to set, but I managed to catch a pretty solid number of acts.
All photos courtesy of Joey Maloney.
The Blow
After a long wait for press passes, I finally made it through the gates in time to catch the first set of the day, The Blow. It's been four years since the release of Paper Televisions, and since then the group (which previously consisted of Mikhaela Maricich and Jona Bechtolt) has slimmed down to just Mikhaela. Currently her live sets are produced in collaboration with Melissa Dyne, who backs up Khaela from the soundbooth. Between lots of chatter about a celebrity who-shall-remain-unnamed, Khaela managed to play a short set which included "True Affection" and the ever-popular, "Parentheses". Take a listen to "Pile of Gold" and a YACHT remix of "Hock It" below!
The Blow – "Pile of Gold"
The Blow – "Hock It" (YACHT Remix)
Cults
The enigmatic duo known as Cults, has remained somewhat of a mystery since I heard their track, "Go Outside" earlier this year. Prior to playing the FYF FEST, the New York based group opened for Maps & Atlases on their US tour. Check out one song I couldn't stop playing this summer, "Go Outside":
Warpaint
When we first posted about Warpaint early last year, they had self-released their 5-song Exquisite Corpse EP. Since then, the group has had a slight line-up change (Stella Mozgawa has replaced David Orlando on drums), re-released the EP in October of 2009 (via Manimal, signed to Rough Trade and have a new full-length dropping next month! Phew. The band is a familiar sight in the local venues around town, but the girls were absolutely at home on the massive Redwood stage. Take a listen to "Undertow" from the upcoming album below, as well as "Billie Holiday" which we featured last year:
Warpaint – "Undertow" (from The Fool, 2010)
Warpaint – "Billie Holiday" (from Exquisite Corpse EP, 2008)
Best Coast
LA locals Best Coast have been getting a lot of love on the blogs this year. The trio (Bethany Cosentino, Bobb Bruno and Ali Koehler) played to a massively packed crowd at this year's FYF FEST; their fuzzed-out garage rock was an incredibly appropriate soundtrack to the scorching festival afternoon. While their lo-fi surf rock sound isn't typical of what you might hear on Aurgasm, check out "When I'm With You" and "Boyfriend" below!
Best Coast – "When I'm With You"
Best Coast – "Boyfriend"
A.A. Bondy
Amid all the lo-fi, electro and indie bands at FYF FEST, A.A. Bondy stood out as one of the few folk acts to hit the stage. However, he wasn't out of place at all — backed by a full band, Bondy's soulful and earnest folk was the perfect mid-afternoon set to catch. Listen to "I Can See The Pines Are Dancing" from When The Devil's Loose below and imagine sitting on the dusty ground, in the shadow of the main stage. Perfect.
A.A. Bondy – "I Can See The Pines Are Dancing"
THE SOFT PACK- "MORE OR LESS" from gia coppola on Vimeo.
The Soft Pack
While I relaxed and waited for Local Natives' set at the Redwood stage, The Soft Pack made sure I didn't wind down too much, when they took the stage. The Los Angeles-via-San Diego band kept the energy level up with their upbeat garage rock. Despite releasing a full-length earlier this year, the band already has a brand new track, "Gagdad" out now. Check it out:
Local Natives
Since we featured them last year, Local Natives have been riding an incredible high. The band signed to a label in the US and the UK, released their debut Gorilla Manor to rave reviews, and have seemed to be touring non-stop! Their stop at FYF FEST was the first time they've been back in their hometown all summer, and it was an incredible one. The guys are always amazing live, and it seems like all the touring has only tightened up their phenomenal live show.
Recently, the band has been releasing the stems for the tracks on Gorilla Manor on their website, and posting the remixes that fans send in. I asked Andy which remixes the band have really been into, and he sent back a remix of "Who Knows Who Cares" by Brighton-based BretonLABS, and the brand new remix of "Shape Shifter" by Superhumanoids, another LA local. (He also mentioned that Superhumanoids will be opening for Local Natives on their upcoming UK tour!) Take a listen to Local Natives' favorite Local Natives remixes below, as well as the exclusive acoustic take of "Camera Talk" the guys recorded for us last year. Then head over to http://www.thelocalnatives.com/stems/ and have a go at remixing some tracks yourself!
Local Natives – "Camera Talk" (Acoustic Aurgasm Exclusive)
Local Natives – "Shape Shifter" (Superhumanoids Remix)
Local Natives – "Who Knows Who Cares" (BretonLABS Remix)
Dead Man's Bones
When Dead Man's Bones hit the stage, they were accompanied by the Silverlake Conservatory Children's Choir, the same choir that collaborated with the duo on their debut album, Dead Man's Bones, last year. The band, which is comprised of Ryan Gosling (yes, that Ryan Gosling) and Zach Shields, played a completely charming and eclectic set backed by the kids, who were all dressed in costume (which included flappers, Abe Lincoln and a James Dean). Take a listen to "My Body's A Zombie For You" and "Pa Pa Power" and hear for yourself!
Dead Man's Bones – "My Body's A Zombie For You"
Dead Man's Bones – "Pa Pa Power"
Check out more photos from FYF FEST at our Flickr page. Thanks again to Joey Maloney for the incredible photos!