Aurgasm@Bumbershoot 2010
bumbershoot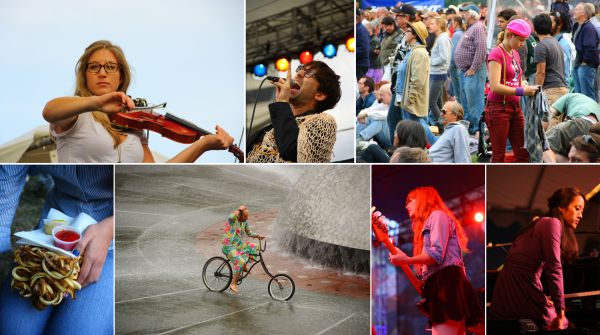 This year Seattle's Bumbershoot marked its 40 years anniversary with an outstanding lineup of both critically acclaimed and up-and-coming musicians. Legendary Bob Dylan, folk goddess Neko Case, funky soul performer Jamie Lidell and the Mediterranean Balkan Beat Box are just a few to name. Following the Aurgasm spirit, below are a few acts we wanted to share with you.
The Budos Band
Aurgasm featured The Budos Band grabbed our attention for their truly irresistible afro-funky groove back in 2007. It's a must-catch act for the fans of Menahan Street Band, Antibalas and the likes. Enjoy the soulful funk vibes of "Unbroken, Unshaven" taken from their recently released album The Budos Band: III (2010).
The Budos Band – Unbroken, Unshaven
Pete Molinari
UK's Pete Molinari plays quirky folk-blues with a retro feeling to it and a good dose of British humour. "One Stolen Moment" delivers wistful melody and genuinely melancholic arrangements. "For Eliza", A Train Bound for Glory (2010), displays Pete's distinctive, melodic voice. From Presley-esque tunes to vintage Americana, it's simply charming. Keep your eyes (and ears) open for Pete's upcoming shows.
Ra Ra Riot
Mentioned already around the blogosphere, Ra Ra Riot were among the festival highlights on Sunday. From breezy pop to energetic indie rock, they won the hearts of the Seattle crowd.
Vienna Teng
Vienna Teng could be easily named the loveliest and audience-friendliest singer-songwriter of the festival. California-born Taiwanese-American pianist, Vienna actually is a software engineer who frequently performs across Europe and US. Vienna shared the news about going to grad school this fall, so unfortunately, we're not going to hear from her any time soon. Enjoy her enchanting piano melodies:
Lay Low
On the last and rainy day, Aurgasm darling Icelandic songstress Lay Low played an intimate acoustic set. Lovísa played songs from her latest album "Farewell Good Night's Sleep" including a few lovely tunes in her native Icelandic.
Bomba Estéreo
Colombian Bomba Estéreo set the stage on fire with the rhythms of cumbia, champeta and bullerengue mixed with danceable electronic beats. A little on the edgy side, the psychedelic effects seamlessly blend into glamorous electronic carnival. Unstoppable energy!
Loch Lomond
Loch Lomond, another pleasant discovery, are Portland-based chamber pop ensemble. We all already know that plenty of good music comes from Portland, so here comes another treat to keep us convinced. Loch Lomond blends folk melodies with soaring vocal harmonies and instrumentation of acoustic guitar, banjo, flute and vibraphone to create a sound of forest fairytale. Somewhat enigmatic, captivating baroque pop.
Photos by Yoav