Aurgasm@SXSW – Day Three
SXSW
The Living Sisters
When The Living Sisters hit the stage at the Paste/Vanguard/Sugar Hill party at The Belmont, there was a slight change of line-up. Inara George, who is pregnant (and expecting very soon!) couldn't make the trip to Austin. However, girls remained a trio, with Alex Lily (of Obi Best) filling in as a "step-sister". We missed Inara, but Alex did a phenomenal job standing in, her crystalline voice blending gorgeously with Becky Stark's and Eleni Mandell's. Their set included "Double Knots" as well as a sweetly sung cover of the Doris Day classic, "Que Sera, Sera". Alex and Eleni would alternate playing guitar, which remained the only accompaniment to their voices for the set. As Becky said, "We're The Living Sisters… and we love to live." Well ladies, we love you too. If you missed our feature of The Living Sisters, check it out here. Also, take a listen to another track off their upcoming album, Love To Live, the stunning "How Are You Doing":
The Living Sisters – "How Are You Doing"
The Living Sisters – "Double Knots"
MOVITS!
When Paul first broke MOVITS! on Aurgasm last year, they were unknown outside of Sweden. Luckily our readers took notice — did you hear the story of how Aurgasm managed to sell every MOVITS! cd in existence? (And apparently land them on the Colbert Report?) The guys just completed their first tour of the US earlier this year, and were at SXSW playing a handful of shows. We caught them keeping the energy up and laying down the jams on South Congress, at The Home Slice. MOVITS! already had the crowd dancing by the time Johan announced "And now the first official dance break of the day!" and the energy levels never faltered. After a song, Johan would briefly explain what the it was about, but the crowd wasn't deterred by the language barrier and kept dancing for the whole set. Everyone may have been talking about Courtney Love and Hole's show at Stubb's, but the party was really happening south of the river.
MOVITS! – Swing För Hyresgästföreningen
MOVITS! – Äppelknyckarjazz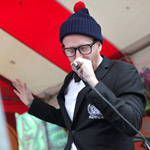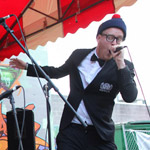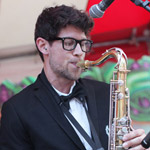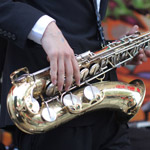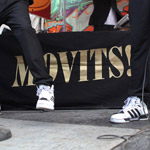 Obi Best
As we discovered earlier today, Alex Lily was pulling double duty at SXSW this year (strangely enough, both were Aurgasm features!). After playing as part of The Living Sisters, Alex was joined by Bram Inscore (keys) and Mike Green (drums) to play the Victorian Room at the Driskill Hotel as Obi Best. According to Alex, this was their first SXSW show as Obi Best, and they didn't disappoint. The trio kept the energy up, playing a handful of songs from the album Capades, such as "Swedish Boy" and "It's Because of People Like You". Despite Mike being sick, and Bram having two broken keys, Obi Best's upbeat electro-acoustic jams kept the crowd cheering. They also played a few new songs, "Knock on Any Door" and "Tropical Fish" for those of us lucky to be in the audience. If you haven't, check out our feature of Obi Best from back in 2008.
Obi Best – "Swedish Boy"
Obi Best – "Nothing Can Come Between Us"
Local Natives
The guys of Local Natives have had a big year since we featured them last year. Now signed to a label and with a full-length out, they've been keeping themselves busy with touring… constantly. Andy, Kelcey, Matt, Taylor and Ryan just finished a tour of Europe when they hit SXSW… to play nine shows. (Yes, nine.) However, by the looks of the entirely packed tent at The Galaxy Room backyard (part of the Frenchkiss/Mom+Pop Showcase) on Friday night, nine might not have been enough! Local Natives are an amazing band to see live, their energy barely restrained as they pounded, clapped and sang with a fervor. If you like these guys on CD, you need to catch them on stage! Until then, take a listen to a more low-key take of "Camera Talk" that the guys recorded for us last year:
Local Natives – "Camera Talk" (Acoustic Aurgasm Exclusive)
Local Natives – "Airplanes"
April Smith and the Great Picture Show
After a long wait outside, we finally made it into The Ale House, which was at full capacity (and remained full all night). We caught the tail end of April's set, which was a great surprise. April Smith and the Great Picture Show played a boisterous and high-energy set of jazz-influenced songs that had The Ale House shaking with every stomp and clap. April and her band were a great surprise to catch in this week in Austin! Take a listen to the track "Movie Loves a Screen" below.
April Smith and the Great Picture Show – "Movie Loves a Screen"
Fanfarlo
It was a tight fit on the tiny stage at The Ale House for Fanfarlo and their instruments (which included: electric guitar, acoustic guitar, drums, mandolin, keys, bass, trumpet, clarinet, melodica, glockenspiel, and a tom). After a long set-up, Fanfarlo took the stage, and Justin Finch (bass) just exclaimed, "It's a clusterf*ck!" — that was exactly it. However, after the chaos of arranging themselves on stage and sound-checking all their instruments, Fanfarlo proved it was worth the wait. They started off the night with "The Walls Are Coming Down" with an acoustic/acapella intro, but turned up the energy by the end of the song. Their complex instrumentations and lush melodies were a highlight of the night. Most of the band played musical chairs between the songs, switching up instruments frequently. By the end of the night, The Ale House was bursting with energy, as Fanfarlo played most of the tracks from their album, Reservoir, including "I'm A Pilot," "Fire Escape," and "Luna". These guys have been a favorite of mine for a while, and are always even better live! Take a listen to "Luna" and "Harold T. Wilkins, or How To Wait For a Very Long Time" below:
Fanfarlo – "Luna"
Fanfarlo – "Harold T. Wilkins, or How To Wait For a Very Long Time"