Roísín Murphy
glitch-jazz // nightclub diva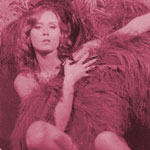 All the girls you know adore
Frou Frou
. You've dabbled deeper into
Imogen Heap
's solo work and you still remember a British duo,
Moloko
, and their finely tuned house tracks, "Sing It Back" and "The Time Is Now". Well, the vocal siren from that dance-pop duo, Roísín Murphy, is now back with enough energy and spice to heat up your bedroom. Armed with the production mastery of
Matthew Herbert
, Roísín's debut album,
Ruby Blue
, is packed with strong, soulful tracks with enveloping beats and complex time signatures. Much of the jazz-laden feeling from the
Matthew Herbert Big Band
's work is present, save
Jaime Lidell
's identifiable croon. "Sinking Feeling" emotes a 1950's barstool seductress, teasing her audience's eardrums and tantalizing their senses.
Finger snap, bra strap, electric zap.