Mr Scruff
bouncy electronica // funky downtempo // acid jazz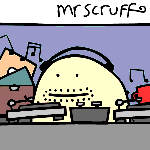 Mr Scruff got a heap of exposure not too long ago when Lincoln yoinked "Get A Move On" from his album
Keep It Unreal
for use
in one of their commercials. You'd be forgiven for calling
KIU
his first album, because his
actual
first album was released in quite limited numbers by a smaller label (Pleasure Records), seven months before Scruff signed to Ninja Tune. That debut album,
Mrs Cruff
, has just been re-issued, and from it I offer the epic 'Chicken In A Box', a vaguely Asian-sounding bundle of big drums, a flutey riff, and Scruff's trademark warm, stringy goodness. For added protein, enjoy the fun 'Dancing Time' number from Scruff and fellow Brighton mate Quantic.
A huge beat – stick it in your car and drum your drive away.
Mr Scruff – Chicken In A Box
Mr Scruff & Quantic – It's Dancing Time
buy this cd